Toilet built at $500,000
& now a ghost home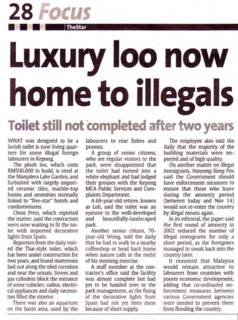 A Thai-style public toilet sited at the Manjalera Lake Garden in Kepong, KL was designed to be so lavish that it would cost RM500,000.
The toilet had been furbished with imported ceramics tiles, marble-top basins and amenities normally linked with 5-star hotels. It include imported decorative lights from Spain.
A staff member at the contractor's office said the facility was almost complete but had yet to be handed over to the Park Management as the fixing of the decorative lights from Spain had not yet done because of short supply.
The toilet is now more than 2 years under construction and has become a living quarter for some illegal foreign workers.
The RM98 million hospital project in Cameron Highland was a 2-year project and was now 5 months delayed with expectations that it will need another 6 months to complete. The Works Ministry had terminated the contractor's contract.
"But the toilet project is also 2-years (worth only $500,000) and they are not being terminated yet," Mercu Jaya cried foul. The RM 176 million Matrade project is 10-years since, and they are not terminated? The Simpang Pulai- Ayer Raja highway was completed in more than 7 years and they were not terminated? Does the Ministry had a standard criteria for termination or they do it as they deemed fit. It looks like you had to be a political crony to stay in business.